Landlord tip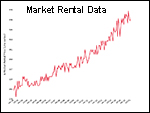 Its always a good idea to have your properties returning market rents. To check what is happening in your area click on the Market Rent link further down this newsletter. We put it in every newsletter for your reference. A yearly rent review with your tenants is a good idea via open communication often done during a property inspection. If you feel the rent is low, take with you a printed copy of your regional Market Rent statistics to back up your discussion with your tenant. There are a couple of rules here. A landlord must inform the tenant in writing at least 60 days before putting the rent up or 28 days for a boarding house, and the landlord cannot put the rent up more than once every 6 months. If you do not have a form for rent increases click here for an example that you can use. For more rules on rent increases veiw Part 2 Section24 of the Residential Tenancies Act
  Landlord tip of the month.   If you would like to share a Landlord tip we would love to hear from you at >newsletter@tinz.net.nz . We are looking for short sharp 1 or 2 paragraph tips which will help us all. If we use your tip in a newsletter there will be a small gift in the mail in appreciation for your effort.  
TINZ tip
Bad Stickers.
At the recent REINZ conference we handed out a good number of our new large double sided door stickers. We have since found out they are somewhat see through, and in our opinion unacceptable when put on a glass door. If you have one of these stickers we apologize. Please reply to this email and we will send you another. Our printers have redone a new run for us.  

 While talking about stickers we have now taken down our small sticker promo from the login Welcome page. Note that you can continue to order them from our Forms menu. We have sent out over 20,000 of these which our members have used inside rental properties to great effect. Read more about it by visiting 'Forms' menu---> 'Order Products' tab.
Of interest!
We have been approached by a significant I.D. verification company who are keen to work with TINZ. Along with more data available for you, the big upshot will mean TINZ will be able to verify Passports as part of our tenant checking service. We know some of you will be excited about this.
LOVE TINZ ?
We would like to say thanks and  reward
the next time you  >refer a friend.


Suggestions? Many improvements made on the website are directly linked to suggestions from members. If you think we could do something different or better we would love to hear from you in our  
>Suggestion Box.
---
---
 TINZ appreciates support and endorsement from..
.
From the desk of the NZPIF ... 
The Reserve Bank is continuing to blame rental property owners for Auckland's rising house prices. They say that investor activity has increased from 33% in 2013 to 41% in 2015.
"The NZPIF disagrees that rental property activity is the prime cause of Auckland house price rises. Rental properties make up around 40% of all houses in Auckland, so you would expect that the proportion of sales would be around this level," says Andrew King, Executive Officer of the NZ Property Investors' Federation.
 This is a supply and demand problem. Over the past year, net migration has increased by nearly 60,000, with many of migrants settling in Auckland. It is obvious that there is a supply problem. Hitting investors to dry and kerb demand is unlikely to yield the result the Reserve Bank wants.  "We actually need more rental properties in Auckland as there are signs of overcrowding due to shortages," says King.
---
  We are always happy to hear from you and assist in any way we can. 
Tenancy Information N.Z. Ltd.
PO Box 105524, Auckland City,N.Z.
Ph. 0800 Tenant (0800 836268)
---