Landlord tip
.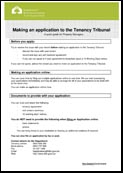 Did you know 1 in 6 prospective tenants fail to pay their bills? Section 56 of the RTA allows property managers to issue a 14 day notice to remedy any breach of the Tenancy agreement. This is best done as soon as humanly possible after the breach has occurred. If need be, follow it up with a Tribunal application. Keep in mind you can apply to the Tenancy Tribunal immediately after serving a 14 day notice, without waiting for the 14 day period to expire. This will shorten up the period that you have to wait to get a hearing. The reasoning is that if your tenant doesn't remedy the breach in the 14 days then it is likely the rent, will then be in arrears by the minimum 21 calendar days that is required by the Tribunal to terminate the tenancy. Do your best to remain on talking terms while taking a tenant through the RTA processes. How about offering your tenant a lift to the hearing? It cuts out one excuse for them not being there.
Landlord tip of the month. If you would like to share a Landlord tip we would love to hear from you at newsletter@tinz.net.nz . We are looking for short sharp 1 or 2 paragraph tips which will help us all. If we use your tip in a newsletter there will be a small gift in the mail in appreciation for your effort. :-)
TINZ tip.
A good tenancy agreement is an integral part of good property management, especially if the tenancy goes sour. TINZ tenancy agreements are available to all our members at $1.40+gst each. We have been tweaking our tenancy agreement with each new printing and feel we have a very good agreement. These duplicate forms including bond forms are available to be ordered from the Forms menu. Alternatively you are able to print them from Downloadable Forms for free.

LOVE TINZ ?
We would like to say thanks and reward
the next time you Refer a friend.


Suggestions? Many improvements made on the website are directly linked to suggestions from members. If you think we could do something different or better we would love to hear from you in our Suggestion Box.
---
Article of Interest
Community, iwi groups lobby to buy
state houses cheap.

Community and iwi groups have asked the Government to sell them up to a fifth of the country's 69,000 state houses at a discount of up to about half of market values.
>>read more
---
---
TINZ appreciates support and endorsement from..
.

From the desk of the NZPIF..
>> Capital Gains tax not a solution 13/4/14

---
We are always happy to hear from you and assist in any way we can.
Tenancy Information N.Z. Ltd.
PO Box 105524, Auckland City,N.Z.
Ph. 0800 Tenant (0800 836268)
---