Landlord tip
.


Be careful with tenants who ask to bond transfer from their current tenancy. Landlords and Property managers should be aware that being presented with a Bond Transfer form, does not automatically mean that the funds referred to will be transferred to them. The bond may get used for arrears or repairs after the tenant has moved on meaning there is no bond to transfer. Check with the previous landlord to see if they're going to release the bond. The concept of Bond transfers is to enable a Tenancy Bond to be transferred without the necessity or inconvenience of a refund followed by a relodgement. It also benefits MBIE bond centre with less admin and the money stays in the bond fund for longer periods. Here is a link to MBIE Bond Transfer Form



Landlord tip of the month. If you would like to share a Landlord tip we would love to hear from you at newsletter@tinz.net.nz . We are looking for short sharp 1 or 2 paragraph tips which will help us all. If we use your tip in a newsletter there will be a small gift in the mail in appreciation for your effort.
TINZ tip.


We are often asked to forward a tenant check which has been done previously. Please note the MyTINZ menu is your personal space where we link all your office users. Every tenant check or reference you lodge is recorded for you to refer back to at any time. In MyTINZ you can view or edit your references, and add photos. You can add or stop 'Address Alerts'. You will also find a page with your member details if you have a need to change these.

LOVE TINZ ?
We would like to say thanks and reward
the next time you Refer a friend.


Suggestions? Many improvements made on the website are directly linked to suggestions from members. If you think we could do something different or better we would love to hear from you in our Suggestion Box.
---
Article of Interest
Rental-home failures trigger calls for action.

Tougher housing regulations on rental properties have been urged after a warrant of fitness trial failed more than 90 per cent of homes it tested. Housing advocates and politicians say compulsory minimum standards should be introduced to protect the health and safety of tenants. The trial assessed 144 properties in Auckland, Tauranga, Wellington, Christchurch and Dunedin, and 94 per cent failed on at least one of the 31 assessment criteria on the checklist.
>>read more
---
---
TINZ appreciates support and endorsement from..
.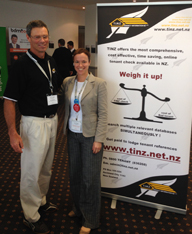 Congratulations
Goodwin Property Management.


Winners of the LPMNZ Property Management Agency of the Year went to Goodwin Property Management. Well done to Catherine and her team. TINZ was proud to be a sponsor at the recent LPMNZ conference and it was awesome to see long time TINZ supporters Goodwin Property Management take out the top award. Catherine comments, "Our use of TINZ credit checks as a key component of our application process; particularly now that TINZ incorporates Tenancy Tribunal Judgements to its consolidated report, sets us well ahead of the reports available from standard financial credit-check agencies. I emphasise this benefit to all new clients. We are also vigilant in contributing detail of defaulting tenants to the benefit of all TINZ subscribers."
Pictured is TINZ Marketing Director Ian Barker congratulating Catherine Goodwin on a wonderful acheivement.

From the desk of the NZPIF..
OECD housing report not completely correct

The latest OECD Housing report claims that New Zealand house prices are 70% too high compared to rental prices. This assumes that rental prices in NZ are where they should be, but the New Zealand Property Investors Federation (NZPIF) believes they are currently too low. This would mean that the OECD study is overestimating the degree to which house prices in NZ are too high. "The fact that rental prices as a percentage of housing costs are low at present is something tenants should enjoy while they can" says NZPIF Executive Officer Andrew King. "As interest rates and Government regulations are increasing, rents are likely to increase as well."
---
We are always happy to hear from you and assist in any way we can.
Tenancy Information N.Z. Ltd.
PO Box 105524, Auckland City,N.Z.
Ph. 0800 Tenant (0800 836268)
---