Landlord tip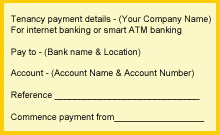 Sometimes it's hard to identify an incoming payment into your rental account. Simplify and clarify this process for your new tenant by putting the payment details and reference on the back of your business card. Makes it easy for them to carry it in their wallet or on their person. So next time you are printing your business cards you might have on the back..
Tenancy payment details - (Your Company Name)
For internet banking or smart ATM banking
Pay to - (Your Bank name & Location)
Account - (Your Account Name & Account Number)
Reference _____________________________
Commence payment from__________________
---
       TINZ tip 
Veda and Dun & Bradstreet are New Zealands most established providers of credit information. TINZ is excited to launch an option to choose a Dun & Bradstreet credit check when tenant checkng.
    Free for a limited time.
We are now in a short introductory period where a Dun & Bradstreet credit check is complimentary when choosing a Veda credit check. Look for it next time you tenant check. 
---
This months Winner of the Reds is... 
Jacqueline Clark 
Epsom Property Management


Every lodgement enters the next draw.

Lodge references
↓↓↓
Help others
↓↓↓
Gain credits
↓↓↓
Win reds!

Learn how to  >Lodge references

 
Suggestions? Many improvements made on the website are directly linked to suggestions from members. If you think we could do something different or better we would love to hear from you in our  
>Suggestion Box.
---
---
 TINZ appreciates support and endorsement from..
.
  from the desk of the NZPIF..
> Rights of the tenants versus rights of the landlord
---
  We are always happy to hear from you and assist in any way we can. 
Tenancy Information N.Z. Ltd.
PO Box 105524, Auckland City,N.Z.
Ph. 0800 Tenant (0800 836268)
---