Landlord tip


.
 The goal when we have a vacancy is to obtain the best tenant in the shortest time. Write compelling adverts! The first word after location is very important (delightful, sunny, spacious etc). What does the tenant want? Put in as many benefits as possible. Find out what works and save it. When fielding calls this is where the selling process begins. Expand on your advert, record contact details and continue to take contacts until you have an unconditional tenancy agreement in place with paid rent and bond to back it up... no rent + no bond = no key!
---
       TINZ tip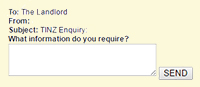 On your tenant check results page any TINZ reference you get will show the member who offered the reference. Click on the members name for a popup through to the person who offered the reference. This way you are able to make contact with previous landlords. Often you would like additional information. Now you can have it.
---
This months Winner of the Reds is... 
Ngaire Orrell 
Arrow Property Management Ltd


Every lodgement enters the next draw.

Lodge references
↓↓↓
Help others
↓↓↓
Account credits
↓↓↓
Win reds!

Learn how to  >Lodge references

 
Suggestions? Many improvements made on the website are directly linked to suggestions from members. If you think we could do something different or better we would love to hear from you in our  
>Suggestion Box.
---
---
 TINZ appreciates support and endorsement from..
.
---
Tenancy Information N.Z. Ltd.
PO Box 105524, Auckland City,N.Z.
Ph. 0800 Tenant (0800 836268)
---