Landlord Tip
.   8 Hot Tips for Checking Social Media from Darren Hunter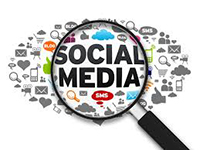 As a tool to assist you in collecting information for tenant application processing, social media can be very useful in a number of ways.
#1  Do they have 'fur babies'?.. When someone says on their application form that they have no pets, their Facebook page should reveal the truth. 20 years ago, people had dogs and cats. These days they have 'fur babies' and their cute little faces will no doubt be plastered clearly on social media, just like a member of the family.
#2  More occupants than you 'counted' on?.. If the property being applied for is a one or two bedroom unit and the applicant says that one or two people will be living in the property, their Facebook page may show if this is the case or if in fact, they have a few more live in family members that they forgot to tell you about!

To read the rest scroll down this page from Darren Hunters Knowledge library. 
---
        TINZ tip 
 Avoid being scammed: The TINZ stress test for tenant checks is better than ever
 TINZ understands a sophisticated approach to tenant checking is required to ensure you have the most comprehensive information when making a decision on prospective tenants. The extensive information in the TINZ database comes directly from your industry peers. In addition to this highly sought after information, we have access to the leading Dun & Bradstreet Bureau as well as over a dozen extra databases instantly, to ensure you have the most complete view.
Remember, only TINZ offer this extensive record and reward you for contributing information on your tenants.
---
This months Winner of the Reds is... 
Tom Alexander
TeMata Property Investments


Every lodgement enters the next draw.

Lodge references
↓↓↓
Help others
↓↓↓
Account credits
↓↓↓
Win reds!

 
Suggestions? Many improvements made on the website are directly linked to suggestions from members. If you think we could do something different or better we would love to hear from you in our  
>Suggestion Box.
---
---
 TINZ appreciates support and endorsement from..
.
 In the NEWS ..
28/7/17  > How to stay safe
27/7/17  > Minimum standards for insulation and heating a step closer
26/7/17  > Christchurch rents continue downward slide
12/7/17  > Political support for longer term leases
---
Tenancy Information N.Z. Ltd.
PO Box 105524, Auckland City,N.Z.
Ph. 0800 Tenant (0800 836268)