Coming up in this edition: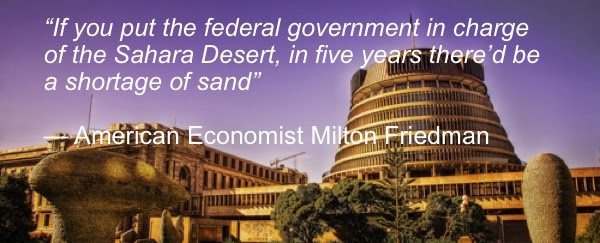 Unforeseen Consequences Of A Utopian Vision Imagine a country where nobody is homeless. Imagine a country where nobody has any social issues such as drug addiction or alcohol abuse. Imagine a country where every child goes to school with shoes on their feet after eating a breakfast and then come home to a loving family where they get a warm healthy meal every evening. Imagine a country where everyone has a roof over their head and we all live happily in a warm, dry and affordable homes. This is the Utopian New Zealand that is being sold to us by our new Government. One cannot deny the good intentions that this Government genuinely has but, and there is a really big but, just how realistic is it and what will be the cost?
Record-breaking Wellington rents match Auckland Wellingtonians facing record-breaking rents, which now match Auckland prices, are looking outside the central city area to Upper and Lower Hutt, Petone and Naenae, according to new data out this morning. Nigel Jeffries, head of Trade Me Property, said rents in the two cities reached a median of $550/week last month, which set a new record for Wellington as well as Auckland. But Wellington tenants are under particular stress.
No go for rent controls.  Changes to tenancy law which aim to boost tenants' rights are on the way – but landlord advocates are relieved to find rent controls won't be among them. Housing and Urban Development Minister Phil Twyford has confirmed that he wants to introduce legislation to reform the Residential Tenancies Act by the end of this year. He says New Zealand tenants have less rights than any in the Western world and he wants to modernise the law to improve their lot and to encourage longer, more settled tenancies. The reforms are likely to include restricting rent increases to once a year, banning letting fees and abolishing no-cause terminations.
700 Housing NZ tenants die during lease - forcing some survivors out. 
 Each year the death of around 700 social housing tenants ends the lease on their state house - at times forcing surviving family members to move out. Several of these cases came to light in the media, including one in the Herald where a cancer patient and his family were told they had to move from their state home of 25 years a week after their mother had died. Subsequently Housing New Zealand and the Ministry of Social Development took a look at how it managed tenancies, with surviving family members, after the death of the tenant holding the lease.
        TINZ tip 

Tenancy Forms
 Under the Products menu we have over 30 downloadable forms freely available to members, from Tenancy Applications to Cleaning guides to Bank Automatic Payment forms. We can also integrate Tenancy Applications and Tenancy Agreements with your listings and with your software. Contact us for details.
 
 
---
Property Managers

---
This months Winner of the Reds is... 
Michelle Carter
Paragon Property Management


Every lodgement enters the next draw.

Lodge references
↓↓↓
Help others
↓↓↓
Account credits
↓↓↓
Win reds!

 
Suggestions? Many improvements made on the website are directly linked to suggestions from members. If you think we could do something different or better we would love to hear from you in our  
>Suggestion Box.
---
---
 TINZ appreciates support and endorsement from..
.
---
Tenancy Information N.Z. Ltd.
PO Box 105524, Auckland City,N.Z.
Ph. 0800 Tenant (0800 836268)
Tenancy Tracker integrates with TINZ and Palace